« Eat Your Broccoli! The Supreme Court Decision on Obamacare | Main | Of Course it's the Culture, Stupid »
July 15, 2012
Alaska Vacation 2012
Before this vacation I'd neither been on a cruise ship or to Alaska, and in fact it's been a few years since I've even had a week-long true vacation. My last several trips have been mission or pilgrimage trips with my church. Interesting, exciting, and worthwhile, but not really vacations.
I had little idea as to what to expect from a cruise ship or from the parts of Alaska where we were going. I'm the type who doesn't do a lot of pre-trip research, preferring to experience things without preconceptions. Sure, part of this that I am always busy with other things and lazy with regard to such research, but part of it is also that I do just like to take things as they come without the preconceptions.
Going were the extended family; mom, brother and sister, and their spouses and children. Eleven of us total, which if you were quick to decipher the previous sentence means 6 adults and five kids.
In short, we flew to Vancouver, and caught the Princess Sapphire cruise ship from there. Over the next week we sailed up the Alaskan panhandle, stopping at Ketchikan, Juneau, and Skagway. We ended up in Whitter, where we caught a bus to Anchorage and flew home from there.
I like maps, and if you do too, here are a few you might find useful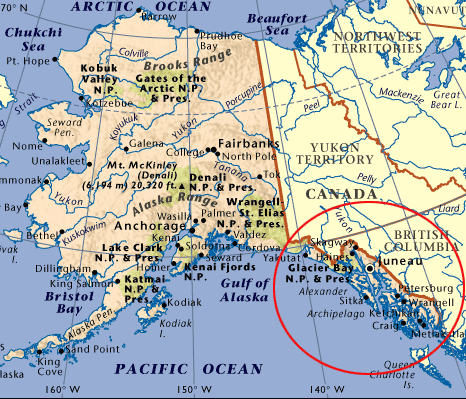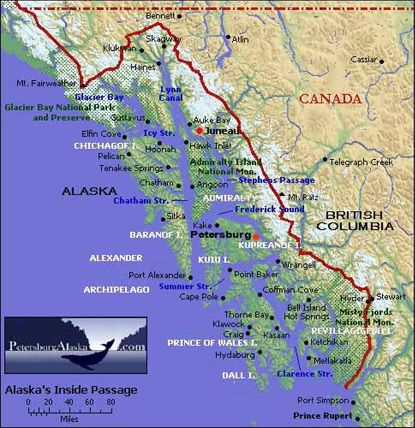 On The Ship
From the glass of champagne they had for everyone upon reaching their stateroom to the off-boarding luggage arrangements, our time on board the ship was absolutely superb. Without exception the crew was unbelievably polite and helpful, they treated you like royalty, and the meals and entertainment top-notch. Various places to eat are open from 6am until 11 or later at night. Whatever you want is available somewhere. There are several bars and lounges around the ship, each catering t a different taste, from lounge music to modern rock n roll. There was a pre-teen and teen center that the kids loved; it was not at all bogus but staffed by people who knew their business. If you're inclined to waste your money you could fritter it away at the casino. If it was shows or lectures you like there was a reasonably large auditorium that was bigger than many movie theaters I've been in. The "center" of all this was the three story Piazza or Atrium, where there was always something going on: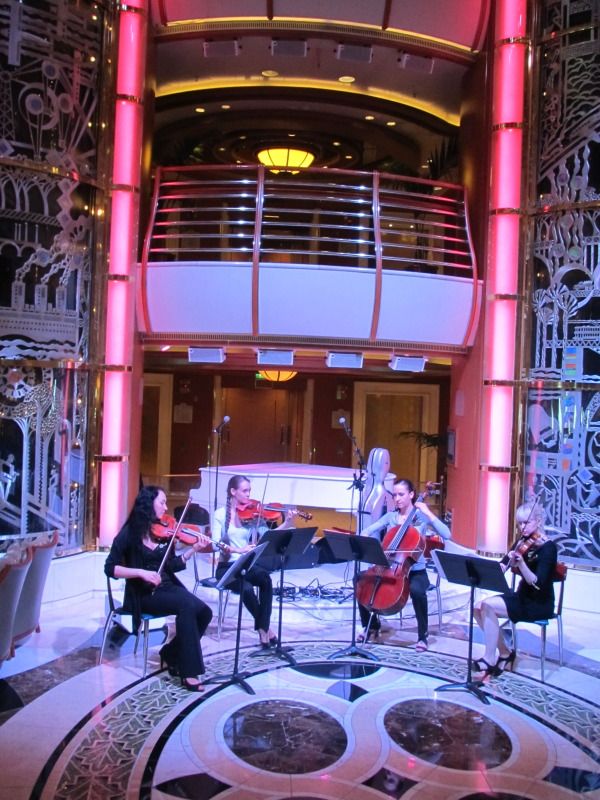 .
Here is the band that played John Philip Sousa music on Independence Day: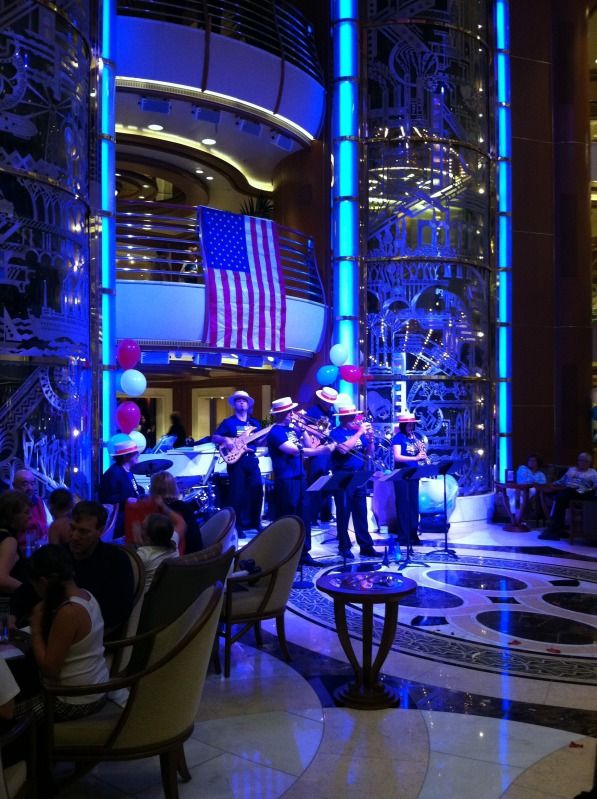 More details at Cruse Critic, but suffice it to say that, lucky us, the ship had undergone a complete renovation in February of this year, improving it considerably.
In addition, the cruise line hired a naturalist who gave lectures, but more importantly, when the ship came close to whale-watching areas or glaciers, came on the ship's PA system and spoke at some length about everything we were seeing. In addition to entertaining and relaxing it was quite educational.
The ship had something for everyone, even the world's largest LED screen, or so they said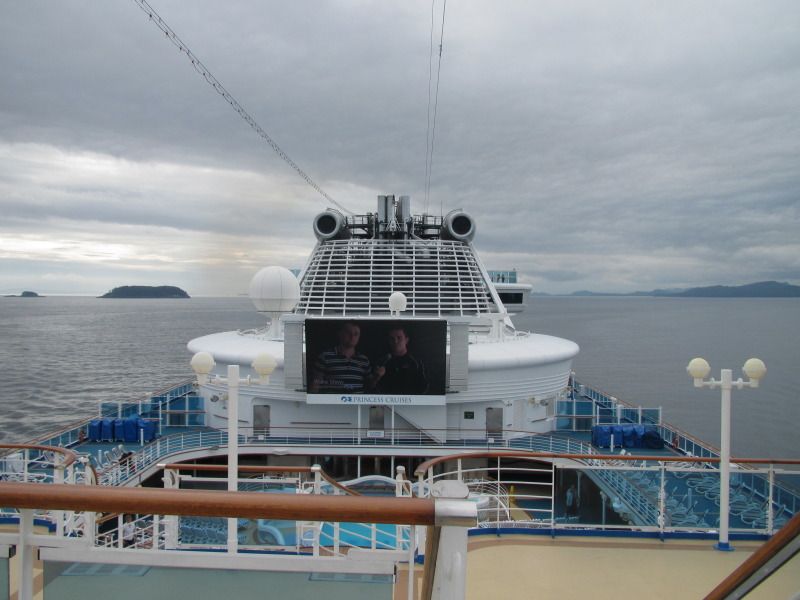 We watched one or two "movies under the stars," but truthfully since it didn't really get dark until about midnight and it got frightfully cold out as we went farther north... this was an attraction best enjoyed when the ship spends it's winters in Hawaii.
Stops and Excursions
As mentioned above, the ship stopped in Ketchikan, Juneau, and Skagway as we made our way up the cost. We got to each city 8ish, and left Ketchikan at 2pm and the others at I believe 8pm. During the day we all went on Princess-sponsored "excursions." These were trips you signed up for ahead of time and were with companies that the tour ship had contracts with. You could of course go out on your own, but ran the risk of not making it back to the ship on time (the company-sponsored trips came with a guarantee) and anyway we figured the shipping line had every incentive to make sure they contracted with reputable companies etc. You could choose from several dozen excursions per stop, and usually had time to take 2 or maybe 3. These excursions cost extra but the pricing varied as did the adventure you signed up for. There was something for everyone.
I can't remember which city this was, but truthfully they all looked about the same. They had a "frontier" look to them, and were a libertarian's dream, and a city-planner's nightmare. The buildings were often horribly ugly, there was no uniformity, and building locations were hopscotch.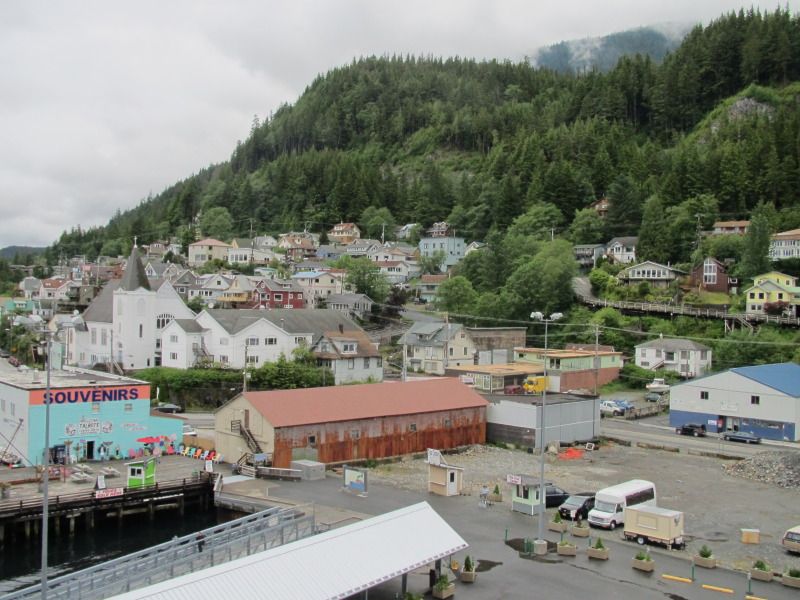 About the wildest thing I did was go zip-lining between huge Western Hemlocks a tree that grows 150-200 feet tall:
This is me in the tour photo I payed 20 bucks for: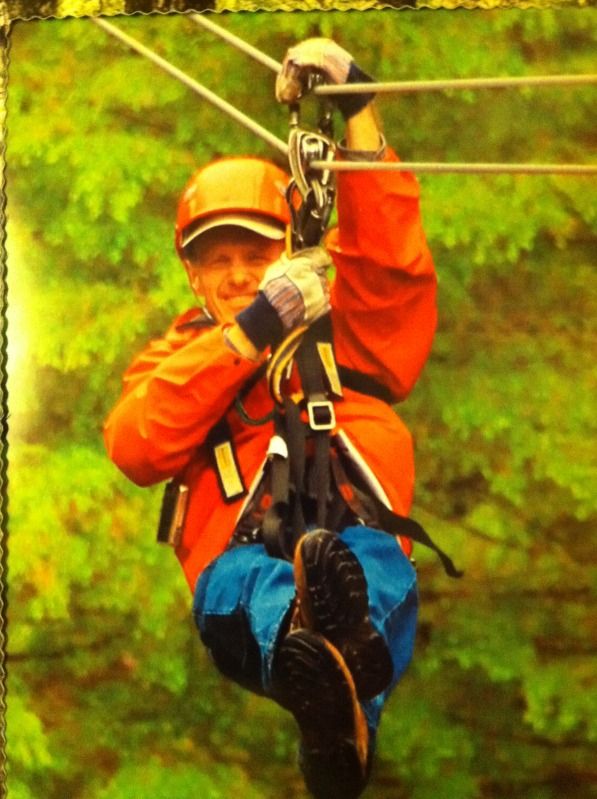 And here is one I took so you can get an idea of how far we zipped and how high we were above the ground:
Other things I did was see the Great Alaskan Lumberjack Show in Ketchikan:
Go salmon sport fishing in Juneau (this one was a bust; there were five of us tourists on the boat and we caught one fish. Oh well, it was still a sort-of fun day):
Whale watching in Juneau: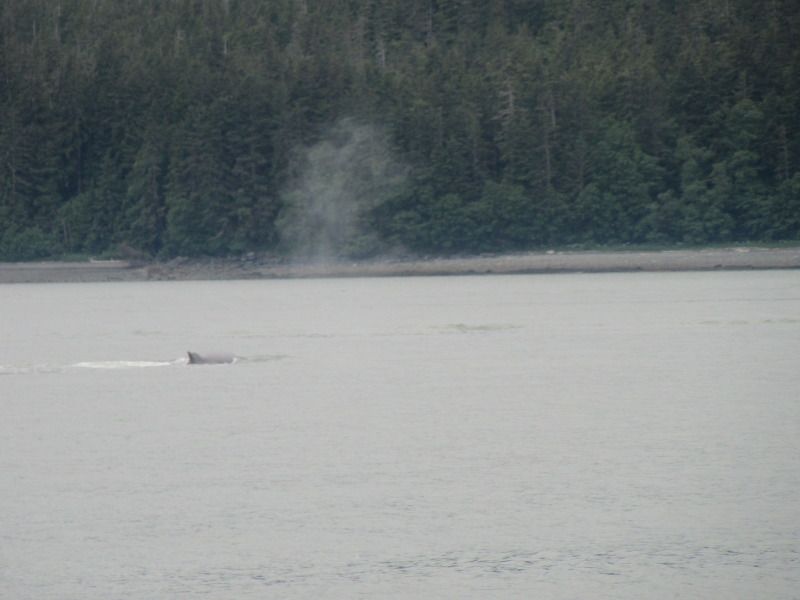 (binoculars made all this a lot better than it looks here. It's hard to really catch much action with a pocket camera)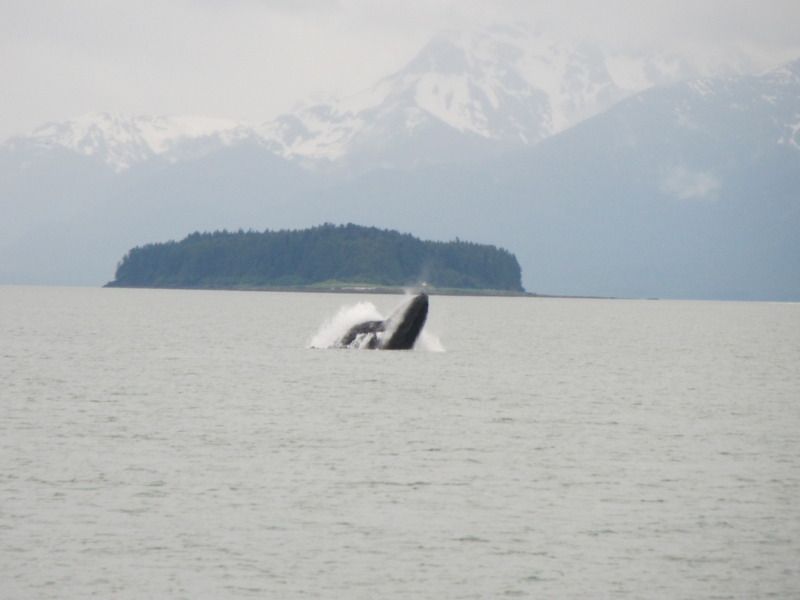 In Skagway I went on a narrow-gauge railway that went way up in the mountains, and into Canada for a short distance. The mountain scenery was unbelievable, and more than my camera could capture: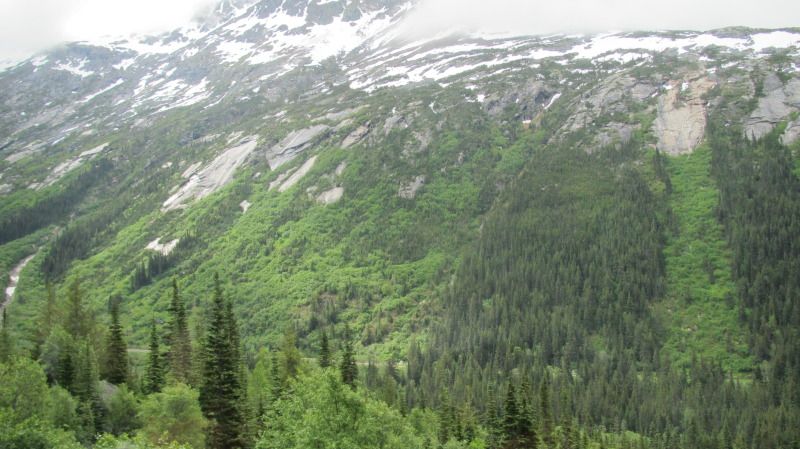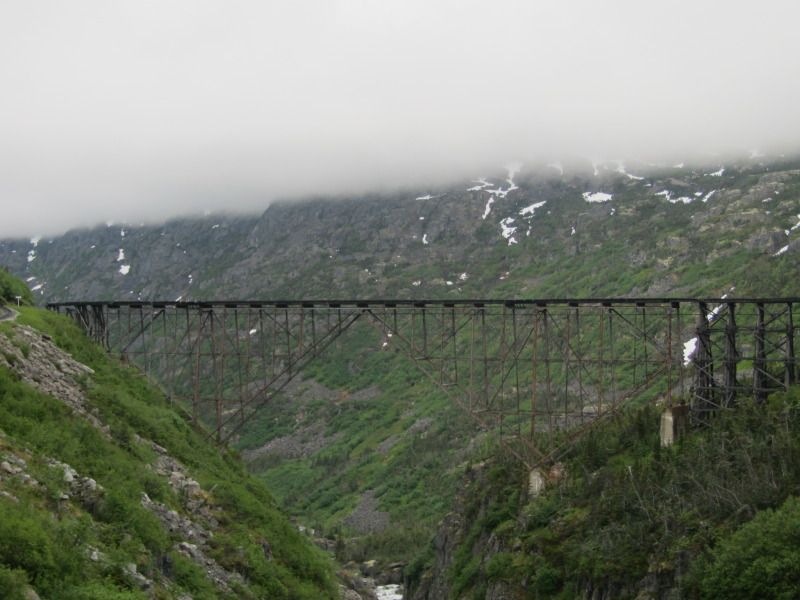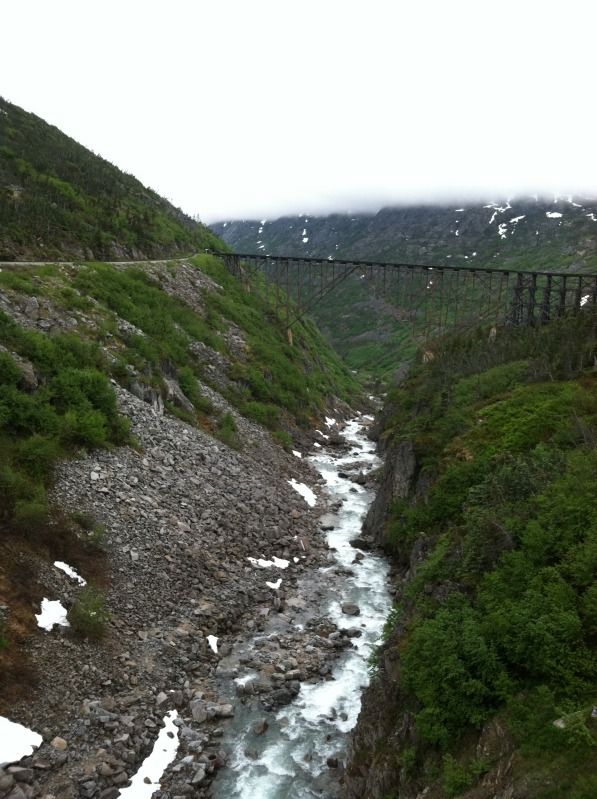 And lots and lots of of Glaciers. The ship went into Glacier Bay National Park, which was pretty amazing. It was hard to get a sense of scale even being right there by the glaciers. They didn't have any of the visual ques on them that we use to determine size; a tree, building, or person. The ship got to within... half a mile? The ship was 1,000 feet long so I used it as a measure.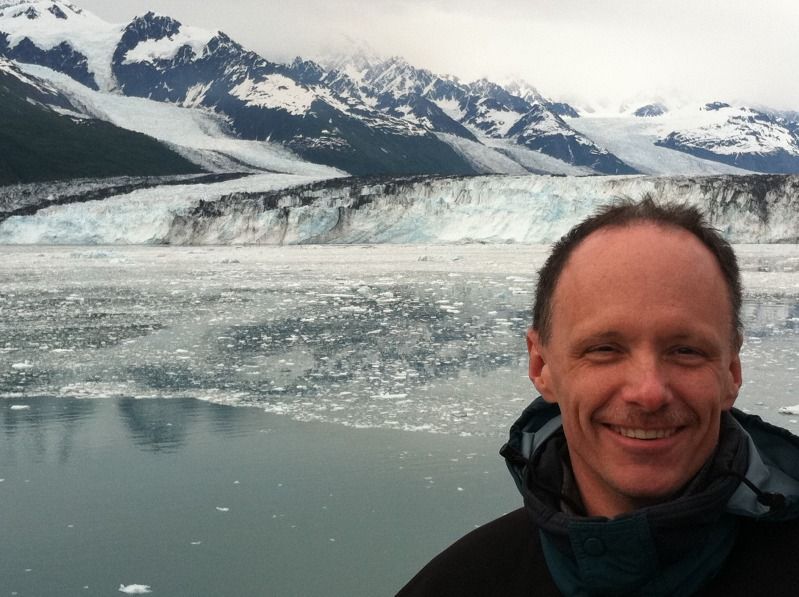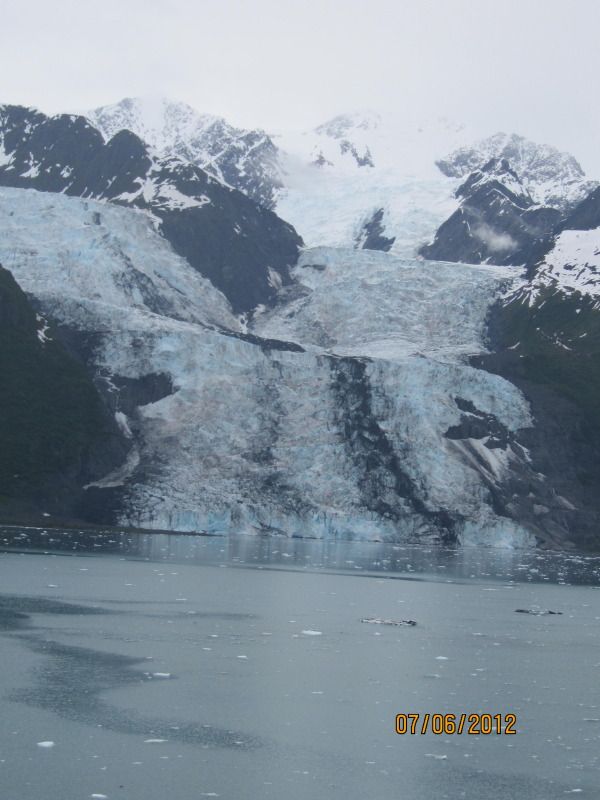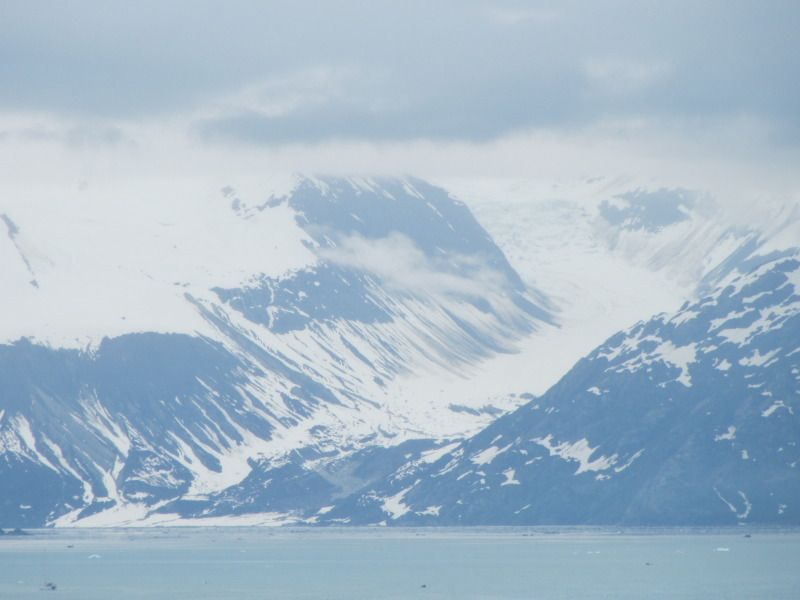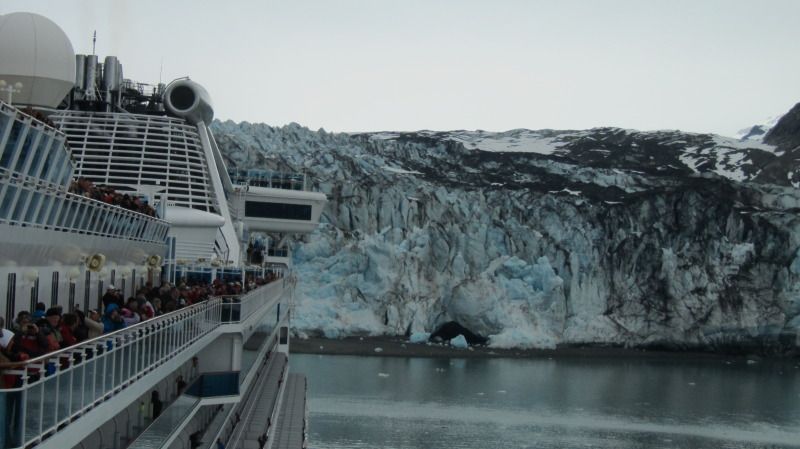 Everyone looks for that "National Geographic moment" whereby some large chunk breaks off into an iceberg. But of course those guys film for days or weeks to catch that one moment. The most we saw were a few car-size chunks fall off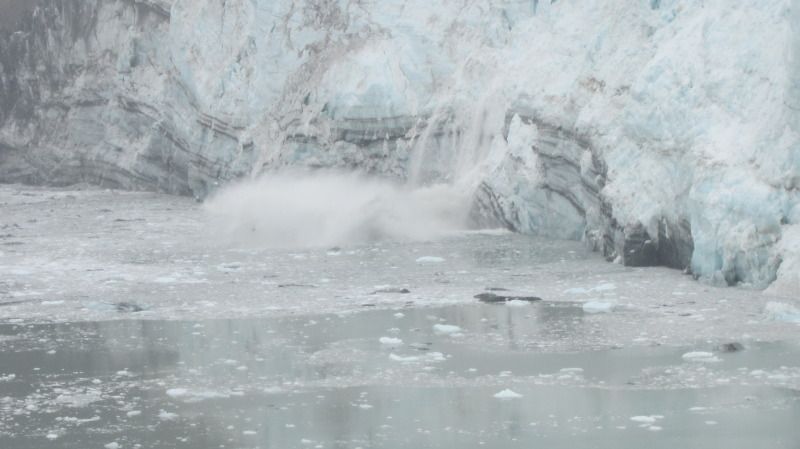 After that we sailed up the coast some more and on to Whittier, where we caught a bus to Anchorage. On the way though there were many beautiful scenes from the ship. Again, the reality was better than my camera could capture.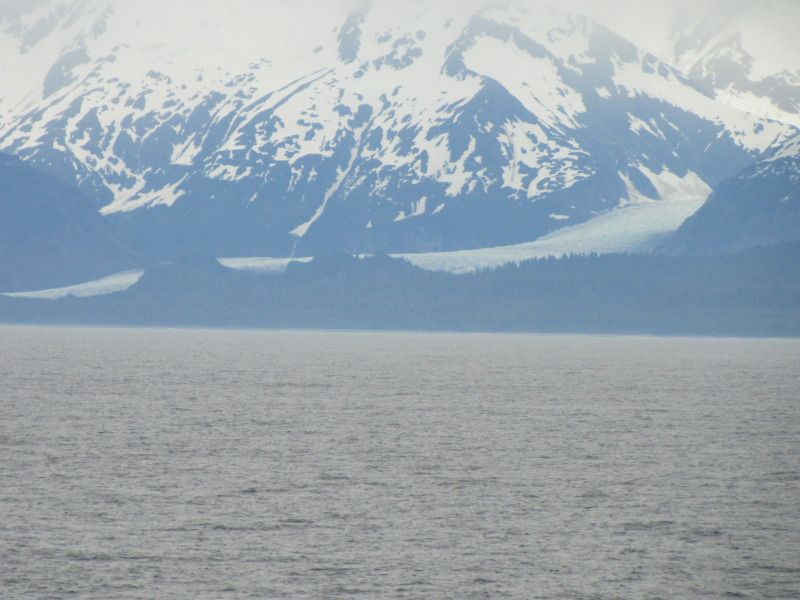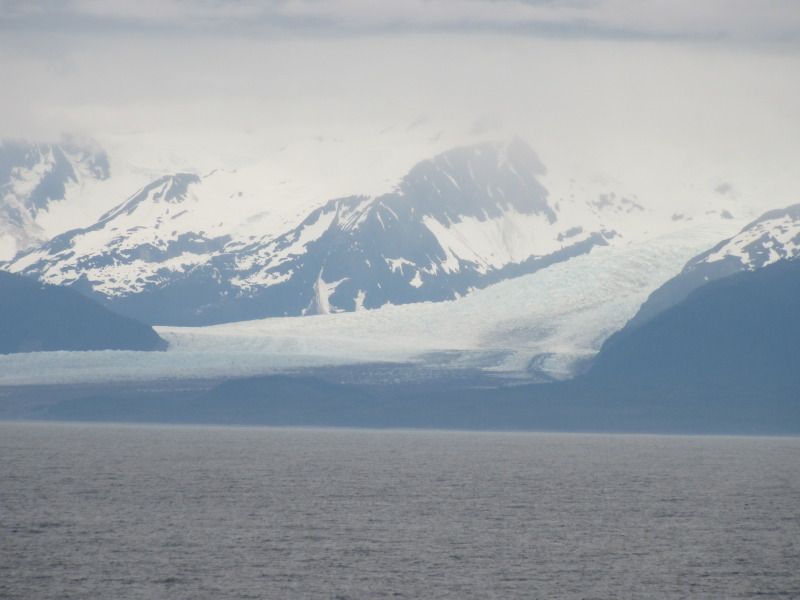 More later, as I'll update this post periodically. A great vacation, a great time, and something I'd recommend to everyone.

Posted by Tom at July 15, 2012 1:23 PM
Trackback Pings
TrackBack URL for this entry:
http://www.theredhunter.com/mt/refer.cgi/1826
Comments
If the pix are this good, it must have been even more spectacular to the naked eye. I look forward to more.
TLGK
Posted by: TLGK at July 17, 2012 8:17 PM
Tom,
Yep, great trip. I did lots of nature excursions and saw a moose, brown bear, and many many eagles. The humpback whales were the best though. Spectacular! Bro-Bill
Posted by: Bro Bill at July 28, 2012 11:26 PM
Post a comment