« The New American Weakness | Main | The Iranian - North Korean Nexus »
February 11, 2013
Pope Benedict XVI Resigns: A Selfless Act of Humility
In what I see as a selfless act of humility, Pope Benedict XVI, the vicar of Christ, announced that he would resign, effective February 28. He said it was because of health reasons and he knows his condition better than I do. If he believes that he cannot perform his duties adequately then that is good enough for me. At 85 years of age, he's entitled.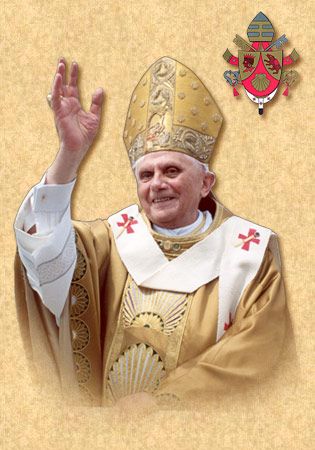 As with everyone else, the announcement caught me by surprise. I heard it on my local EWTN radio station as I was driving into work today. But upon a moment's reflection, I realized that although it was certainly a momentous announcement, I wasn't really so surprised at all. B16, as he is sometimes called, is humble and smart. It's no surprise at all then when at his age he came to the conclusion that it was time to hand the reigns to someone else.
Here is the full text of his announcement:
Dear Brothers,

I have convoked you to this Consistory, not only for the three canonizations, but also to communicate to you a decision of great importance for the life of the Church.

After having repeatedly examined my conscience before God, I have come to the certainty that my strengths, due to an advanced age, are no longer suited to an adequate exercise of the Petrine ministry.

I am well aware that this ministry, due to its essential spiritual nature, must be carried out not only with words and deeds, but no less with prayer and suffering.

However, in today's world, subject to so many rapid changes and shaken by questions of deep relevance for the life of faith, in order to govern the bark of Saint Peter and proclaim the Gospel, both strength of mind and body are necessary, strength which in the last few months, has deteriorated in me to the extent that I have had to recognize my incapacity to adequately fulfil the ministry entrusted to me.

For this reason, and well aware of the seriousness of this act, with full freedom I declare that I renounce the ministry of Bishop of Rome, Successor of Saint Peter entrusted to me by the Cardinals on 19 April 2005, in such a way, that as from 28 February 2013, at 20:00 hours, the See of Rome, the See of Saint Peter, will be vacant and a Conclave to elect the new Supreme Pontiff will have to be convoked by those whose competence it is.

Dear Brothers, I thank you most sincerely for all the love and work with which you have supported me in my ministry and I ask pardon for all my defects.

And now, let us entrust the Holy Church to the care of Our Supreme Pastor, Our Lord Jesus Christ, and implore his holy Mother Mary, so that she may assist the Cardinal Fathers with her maternal solicitude, in electing a new Supreme Pontiff. With regard to myself, I wish to also devotedly serve the Holy Church of God in the future through a life dedicated to prayer.

From the Vatican, 10 February 2013

BENEDICTUS PP XVI
Kathryn Jean Lopez had it right this morning when she called his decision an "act of humility," and so it seemed appropriate to make it the title of my post as well.
I've known two popes in my lifetime, John Paul II and Benedict XVI. Oh I was alive for the papacies of John Paul I, Paul VI, and John XXIII, but was either a child or.... just not paying attention. No one could miss John Paul II, and he gave me a very positive view of the Church.
JPII was known as "the traveling pope," and an inspirational leader who helped bring down communism. B16 is seen as an intellectual and kind grandfather. If you're not familiar with the scholarly and academic career of Joseph Aloisius Ratzinger, Google around a bit and you'll see what I mean. You don't have to be a Catholic to be impressed.
There will be much silliness in the press and on certain blogs before we have a new pope, and already you don't have to go far to see some of it. Some is and will be out of ignorance of religion and Christianity in general and Catholicism in particular, and some is and will be out of hate and meanness. But we shouldn't be surprised at the latter, for our own Lord told us that we " will be handed over to be persecuted and put to death, and you will be hated by all nations because of me" Matthew 24:9 and also
Matthew 5:10-12 "Happy are those who have been persecuted for righteousness' sake, since the kingdom of the heavens belongs to them. Happy are you when people reproach you and persecute you and lyingly say every sort of wicked thing against you for my sake. Rejoice and leap for joy, since your reward is great in the heavens; for in that way they persecuted the prophets prior to you .
And St Paul to Timothy:
2 Timothy 3:12 In fact, all those desiring to live with godly devotion in association with Christ Jesus will also be persecuted
Myself? I am a Christian who is looking seriously at becoming a Catholic. I'm going to a Catholic church and taking some classes there, so we shall see. While we do not put our faith in any man, pope or no, I am certainly impressed with the ones I have known in my lifetime, and have every confidence that the next one will be just as good.
Posted by Tom at February 11, 2013 9:00 PM
Trackback Pings
TrackBack URL for this entry:
http://www.theredhunter.com/mt/refer.cgi/1887
Listed below are links to weblogs that reference Pope Benedict XVI Resigns: A Selfless Act of Humility:
» gs test 2013 4 8 from gs test 2013 4 8
The Redhunter: Pope Benedict XVI Resigns: A Selfless Act of Humility [Read More]
Tracked on April 8, 2013 1:28 AM
Comments
It's a shame the Pope's example couldn't penetrate the fog of ego and delusion that surrounds Obama and inspire him to do the same.
Posted by: Mike's America at February 12, 2013 8:37 PM
Post a comment